Editions Glénat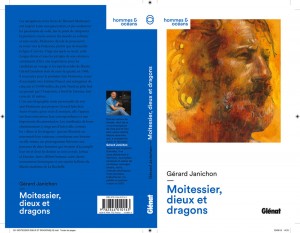 « The biography of a mythical figure of the sea and the adventure, written by another sailor of legend who was his friend and his spiritual heir. By putting his life in parallel, Gérard Janichon gives to that of Bernard Moitessier all his romantic dimension.
The navigations and Bernard Moitessier's books inspired a whole generation, and not only the enthusiasts of sailing.
On the point to win the first solo round-the-world race without any stop, Moitessier decides to pursue its road towards the Polynesia, rather than to cross the finishing line. More than twenty years after his death, this Long Road and all trips of his existence continue to be the reference for the candidates to the journey and the spirits been in love freedom.
Gérard Janichon was of those when, in 1969, he met for the first time Moitessier, before carrying out with Jérôme Poncet a navigation of 5 years and 55 000 miles, from the North Pole to the South Pole including) the Amazonia and of the Cape Horn, aboard Damien their 10 meter cutter.
It is a quite personal biography of his friend Moitessier whom proposes Gérard Janichon. However alive a narrative of adventure, he leans on their meetings and their mailing, but also on an important documentation. The similarities of their progresses in twenty years of interval, as the  » gods and the dragons  » which illuminated or tourmented their life, establish a story in itself, a literary continuation in the courses of two men which dreamed to achieve their life and the fates of which crossed.
Joshua and Damien, their boats so famous, are classified historic monuments within the fleet of the Musée maritime of La Rochelle.»