Born in December 1945 in Morocco.
1965-1967 : At the end of high school in Grenoble, launch the project with Damien Jerome Poncet, schoolmate. After a year between hypokhâgne and Sup de Co, and different positions to inflate the body of the board, installed in La Rochelle to complete the boat and preparation.
From May 1969 to September 1973 : Departure from La Rochelle, Damien journey around the world in the Arctic (80 ° N), the Amazon, Cape Horn, the Southern Ocean and Antarctica (68 ° S). In December 1973, Damien was exhibited at Paris, to the defense.
October 1973-December 1976 : The preparation of Damien II and 3 schooners steel lifting keel, couples Jérôme-Sally Poncet and Gérard-Jaquie Janichon is done as a team. Life in Grenoble, Tarare, Marseille, La Rochelle and Lot for construction of ships, the preparation of new navigation and restoration of an old barn used as a dwelling. End of writing the story of Damien, conferences with screening of Damien to finance new ships. Travel in arctic territories for a brief recognition of the Northwest Passage. Launching Damien II in April 1976 and Damien 3 September 1976. Departure of two boats at Christmas 1976. Return Damien 3 in La Rochelle because of technical requirements and crew.
1977-1978 : Crossing direct solitary La Rochelle Rio de Janeiro. Solo sailing and crew in Brazil, Guyana, West Indies. Boat sold to Oleg Bely, then owner of a name Joshua Kotick.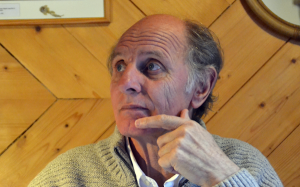 De 1979 à 1981 : From 1979 to 1981: Scripture, life on land, early aviation training (airplane, glider, Ulm). Technical collaboration with the shipyard ACNNO Noirmoutier. Construction Damien IV, a cutter aluminum 11 m, lifting keel. Departure to South America. As Damien II, the IV will be a series of boats cruising.
From 1981 to 1982 : Navigations in Brazil, South Africa, St. Helena, Azores, return to La Rochelle. Birth of a son, Blaise, in Capetown, May 82. Boat sold in 1984.
From 1983 to 1985 : Life on earth writing. Director of a radio station.
From 1986 to 1993 : Life on land in the Lot. Aviation period, writing (books, articles), traveling. January 86 launch of an aviation school in Agen, accompanied by a flight instructor partner. Level 200 provides vocational training aircraft and flight instruments for students to prepare for a career as a pilot. May 86 conveying a single engine (TB 20) in the U.S. along with Yann Nedellec, converted to aviation browser. Flight stage by Scotland, Iceland, Greenland, Canada and USA. And training coordinator in Auch in school steering Sigaal. Several books and travel during this period (Canada, Reunion, Mayotte), a campaign in Antarctica with Jerome Poncet on Damien II. Held « hostage » in Rwanda in 1991, when shooting with a team of National Geographic.
1993-2009 : Stop aeronautical activities, life down to write and raise Lucia, born in 1994. Journalism for sailing magazines, writing a couple of books, together with various publishers and maritime adventure Dvd books. Participation in numerous festivals and adventure travel, and several juries movies or books.
From 2010 to 2012 : Very involved in the project « Integration Challenge » social and maritime challenge. Concluded by the release of a book « Libertalia » Gallimard. Output of a first novel, « The Curse of the Rainha Filipa » in Arthaud.
September 2012 : Damien is exhibited at the Grand Pavois. Launch renovation project boat (listed building).
November 2012 : President of the Jury of the Adventure Film Festival of La Rochelle. http://www.festival-film-aventure.com/